This Camper Company Is Redefining "Travel in Style" For Young Wanderers
Written by Jason Buhrmester for Playboy
May 17, 2018
For modern travelers, crashing at the nearest Airbnb offers comfort, convenience and occasionally clean towels—but it doesn't provide much of an adventure. Those looking to get off the grid for an app-free style of getaway would be better served hitting the backroads in an Airstream travel trailer.
For nearly 90 years, Airstream has been known for its smart, iconic design, earning the company a reputation as the Appl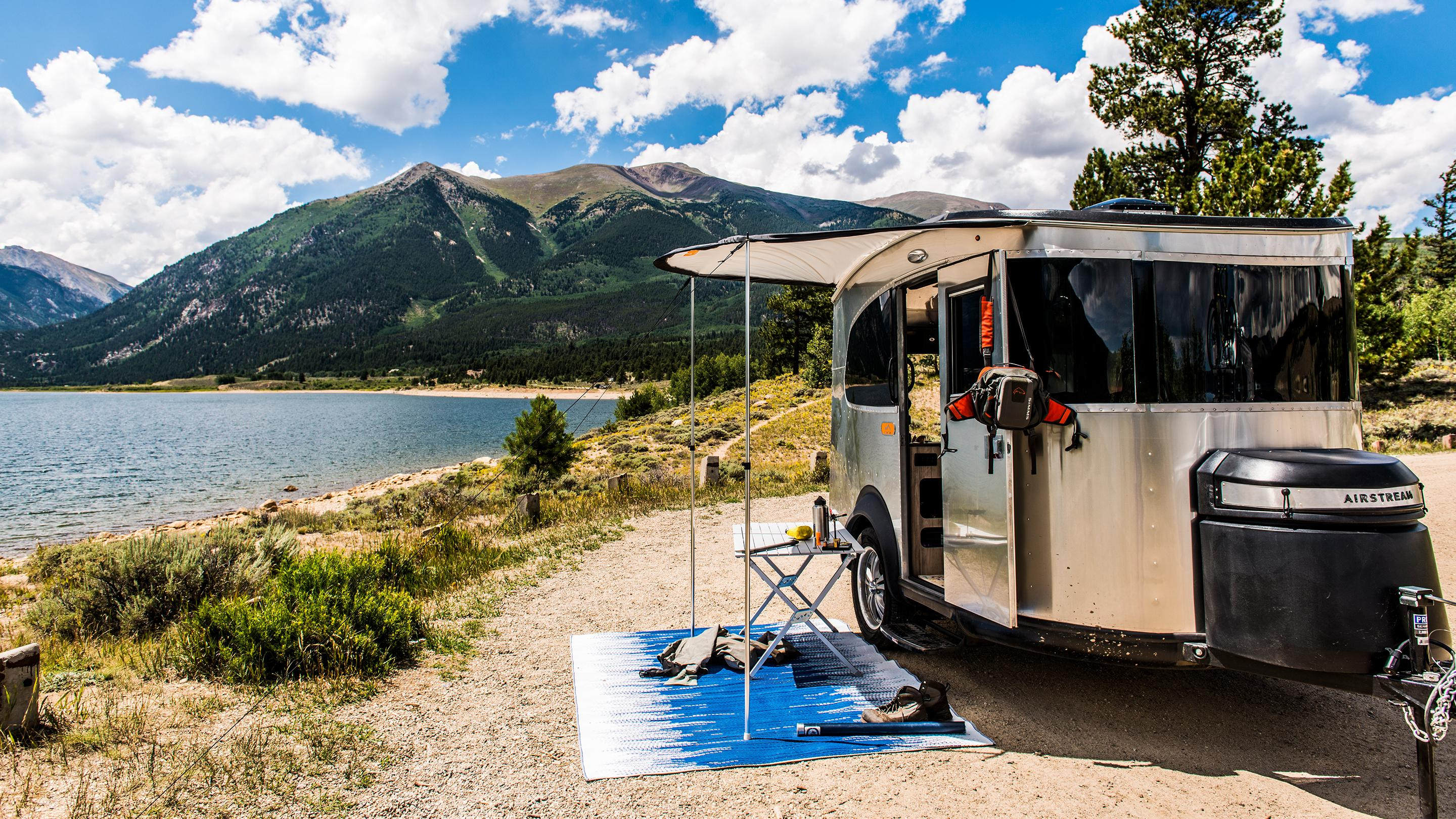 e of camper brands. Highways around the world glisten with the aluminum-encased trailers fulfilling founder Wally Byam's promise to "provide a more satisfying, meaningful way of travel that offers complete travel independence, wherever and whenever you choose to go."
But historically that independence has come at a hefty price. A fully-outfitted Airstream trailer can run $45,000 to $140,000. Plus, owners needed to possess a truck powerful enough to tow all of its retro-coolness. That put Airstream ownership out of reach for a lot of young adventure seekers. The company recognized the dilemma—and the opportunity—and set about designing a product for a new generation of would-be wanderers living life outside the RV park and searching for a travel trailer to use as a mobile crash pad and Coachella dwelling. (In fact, Kim Kardashian stayed in an Airstream in Palm Springs this year). The result is the Airstream Basecamp, the perfect compact trailer for urban users looking to make weekend excursions into the woods or a cross-country journey to the places Google Maps has never gone.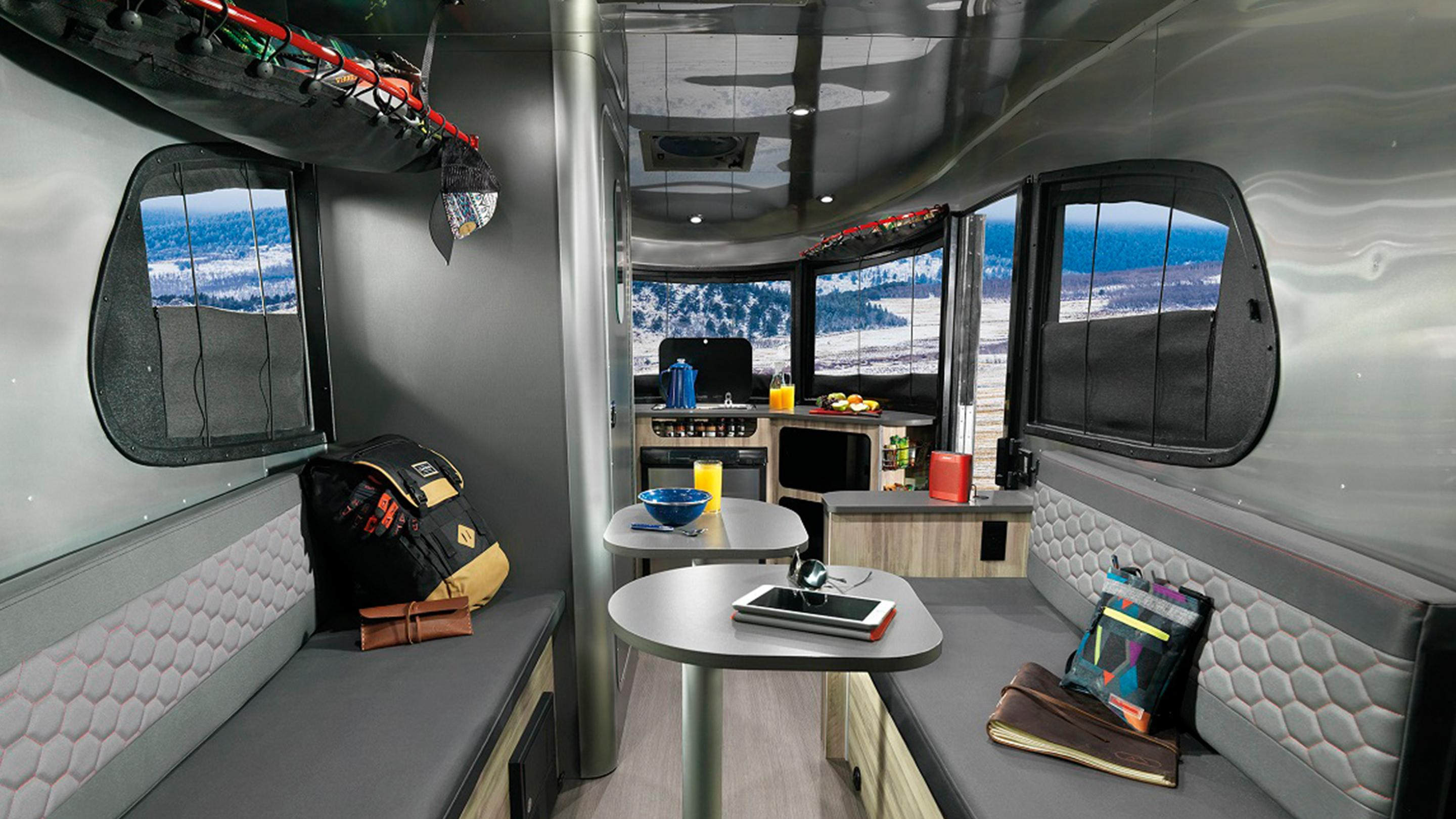 Most notable is the Basecamp's size. At just 16 feet long and seven feet wide, the Basecamp is the most compact of any Airstream. The trailer's tow weight, a mere 2,500 pounds empty, means it can be hauled behind most mid-size SUVs, trucks and vans and the increased ground clearance and departure angle make it much easier for novices to maneuver.
But don't let the Basecamp's diminutive size fool you. Airstream designers have nearly a century of experience in creating efficient layouts and the Basecamp packs a well-outfitted Manhattan studio apartment into a trailer small enough to be hauled behind most Subarus. Most striking is the modernized kitchen which includes a three-cubic-foot refrigerator, two-burner stove, stainless steel sink with fold-down cover and optional microwave. This set-up faces the Basecamp's enormous wraparound windows, perfect for watching the local wildlife while having the first cup of coffee. Tucked behind a door is a functional wetbath that includes a toilet, shower and small pass-through-door, handy for feeding the showerhead outside to hose down muddy shoes and mountain bikes. The rear of the trailer features a sitting area complete with benches (that hide deep storage) and tables, all of which converts into a bed capable of sleeping two, three if you're cozy. Storage, in the form of shelves, bungees and pockets, line the walls.
For all of the retro flair that any Airstream exudes, the Basecamp features a healthy dose of technology. Nearly every flat surface features outlets and USB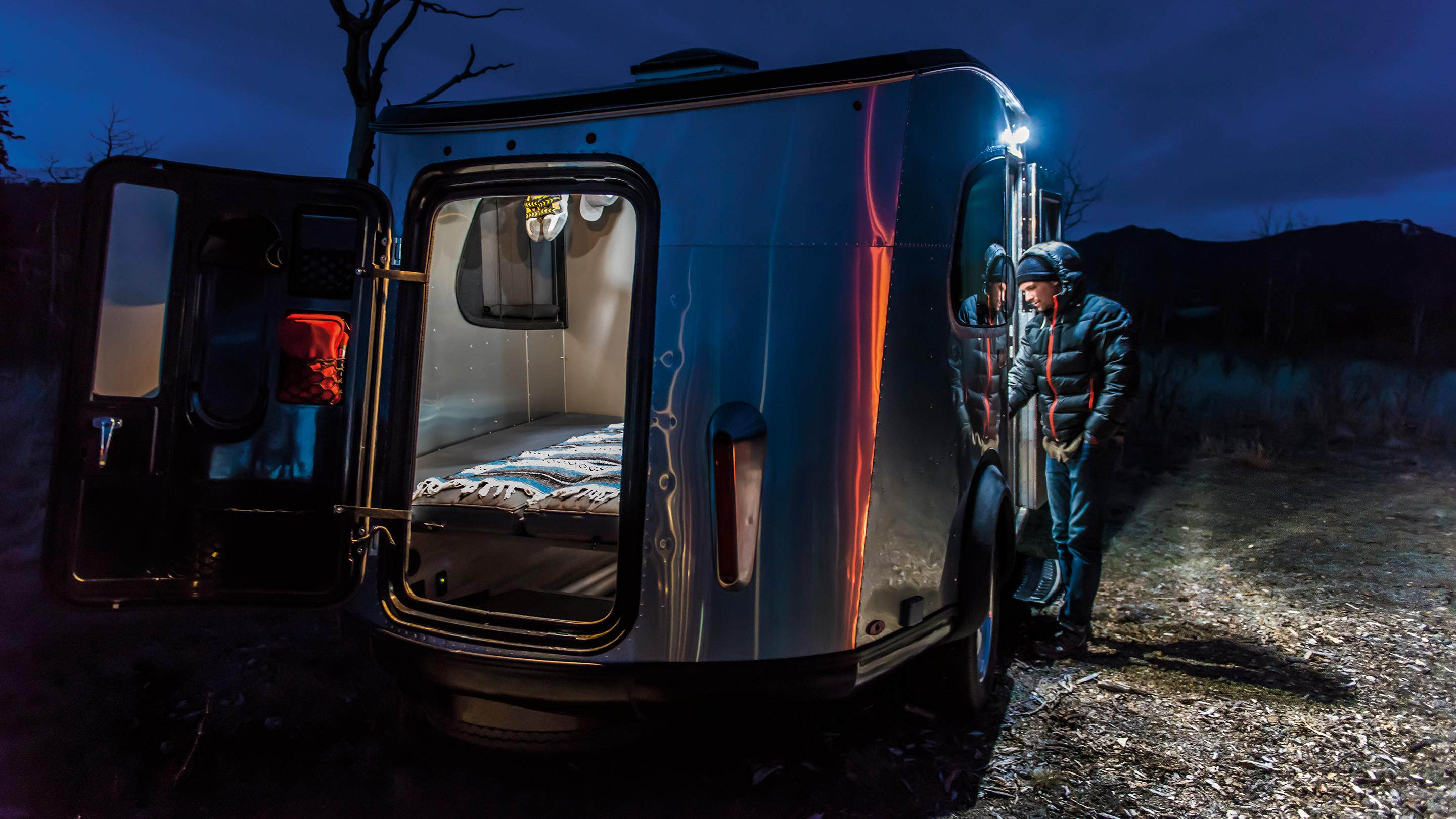 docks while a digital readout mounted on the wall provides updates on water levels, controls the hot water and operates as a thermostat for the heating system and optional air-conditioning. That technology is just part of the way Airstream has designed the Basecamp to ease novices into the travel trailer lifestyle. (As Byam was quoted as saying, "We don't sell trailers. We sell a way of life.") For the uninitiated, the Basecamp's 22-gallon freshwater tank can be filled with a hose and a simple power cord attaches to the power supply at the RV park. If you want to skip the RV park and fully disconnect, pony up for the optional solar panels and keep the Basecamp fully juiced out in areas where a cellphone is useless.
The Basecamp's starting price of $35,900 means it is an investment but for adventurers looking for more than just the occasional weekend tent-camping at the local state park it's the perfect place to start. The sleek trailer is easy to maneuver, simple to operate and designed for going off the grid at a moment's notice. Make this your Burning Man crash pad then turn off your cellphone and take the Basecamp to the quiet of Big Sur for a month to rebuild your mind.
For more information, click here: